Guitar making courses are taught in a 1 to 1, long term, evening class format. Each session is 3 hours long, and 2 sessions a week is preferred. Students start with material selection, and go through the entire guitar building process with the choice to leave with a fully french polished guitar, built in the Spanish tradition.
Due to the long term nature of the courses, courses are currently only available to people who live within a 1 hour radius of Grimsby, ON.
Spaces are extremely limited, so please inquire about current availability and prices here.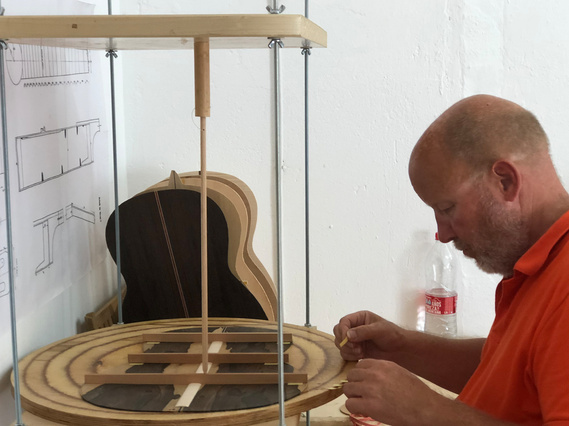 No Woodworking Experience Is Required
Students will learn how to use chisels, planes, and other hand tools, and have access to machinery and power tools. Whether they are experienced with woodworking or not, students will have an expert guiding them through the whole process.
Students can build a traditional classical or flamenco guitar, using my own well-tested systems and designs, guaranteeing an excellent and expressive finished instrument.
"Evan is a very talented maker with a keen eye for detail. His teaching style is very calm, encouraging, precise, and well thought through, making it a pleasure to work with him. Making a guitar under his tutelage in Spain was one of the best things I've ever done with my life."







Rosette Making
Students will learn the art of traditional rosette making. Students will design and build their own rosette to give their guitar its own flair and personality.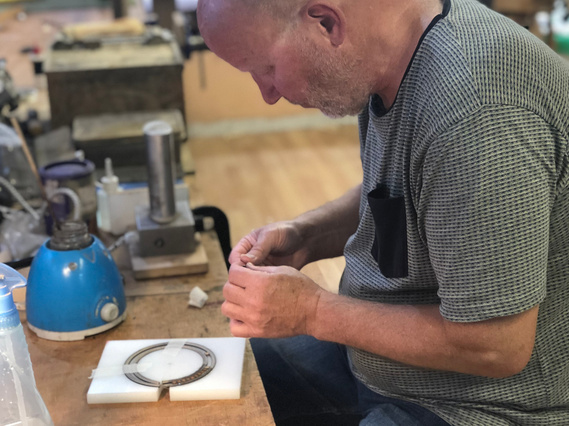 "I spent twenty full days working and learning to build a classical guitar under the tutelage of Evan. There is nothing he doesn't know about this process and he is extraordinarily detailed and very precise. I'm full of admiration of his knowledge and passion for guitars. I now have a beautiful guitar and am reminded of Evan's skills and patience whenever I play it."
John L.
Flexible Scheduling and Payment
Every session is three hours in length and currently only evening classes are available. An estimated 40 sessions will be required to complete a guitar and so it is recommended to have two sessions per week. Sessions are booked a week or two in advance and payment is made at the end of every week. While it is recommended to have sessions on the same days every week (ex. every Monday and Thursday), days can be scheduled to fit your needs, and rescheduled when required (with 48 hours notice).
"Evan helped me plan, design, and build a guitar that I truly treasure. He has an eye for design, the ears for sound, and the patience required to help those of us with no skills in woodcraft produce something remarkable. It's very pleasing to see him branch out on his own after five years of apprenticeship with a master luthier in the home of the Spanish guitar tradition. Can't recommend him highly enough."
Paul M.
To learn more about pricing, availability, and to book your place on a course, please contact me here or send me an email to info@evankingmaguitars.com